In Stock ORDERS: In stock merchandise generally ships within 24 hours of order confirmation.  In Stock merchandise can be exchanged within 15 days of purchase less shipping fees.  Refunds are only accepted for damaged merchandise.
PREORDERS: Preorders are accepted for items not yet in stock.  You have three options when preordering a doll.
#1. Pay Upfront Deposit:  If you choose this option you will be charged a 20% deposit on your order.  When your merchandise arrives, we will  send an invoice for the balance due and ship when paid.  You will need to "log in" to pay your invoice.
#2.  Pay Monthly (Layaway):   With the layaway option you can choose the length of monthly payments (3, 4, 6 or 9 months) that works best for you and fits within our requirements.  Please note: You MUST create a denverdoll.com account to use the layaway option.
3 or 4 month layaway available for orders over $75.
6 month layaway available for orders over $600.
9 month layaway available for orders over $1,000.
You will automatically receive a monthly invoice (on the same date of original order) to be paid within 48 hours. Extra payments can be made but will NOT replace your monthly payment.  Please DO NOT check out as a guest if you are doing a layaway.   If you have done so please contact us and we can assign the order to your account.
You are always welcome to pay layaways off early or make to make EXTRA payments.  If you would like to do that please contact us and we can send a invoice.  Or you can log into your www.denverdoll.com account, go to "my account" and click on scheduled.  You can make payments directly from there.   Otherwise, we appreciate keeping with the scheduled payments.  We CANNOT change the date of your monthly payments. 
Preorders/Layaways are considered final sales. You make a deposit, we hold the merchandise or order the merchandise specifically for you and we pay in full for it. If you cancel your preorder or layaway, you will lose all money already paid. NO EXCEPTIONS.  When your preorder arrives, we will automatically charge the balance and ship the item to you. The 20% deposit is NON REFUNDABLE – NON TRANSFERABLE, no exceptions. In most cases, a cap of $1500 total is the limit on layaways at any one time by an individual.
If you are more than 15 days late with a layaway payment, we will consider the transaction null and void and return the item to stock. You would forfeit ALL money already paid on the layaway.
If you choose to abuse our layaway parameters (consistent late payments, declined credit card payments, ignoring Paypal invoices, cancellations, etc.), we reserve the right to refuse to offer you the option of using our layaway program.
RETURNS: Returns for full refund are offered for damaged merchandise only. We will accept exchanges or will issue a store credit for other items returned within 15 days of purchase for the amount of the item less shipping charges. FINAL SALES – NO RETURNS applies to ALL layaways or preorders. NO EXCEPTIONS.
SHIPPING: Domestic shipping is via First Class, Priority Mail or UPS ground.  We will choose the best and safest method.
Please notify us by email or phone if you have a change of address!
For International orders: We must declare orders as "merchandise" with full value for Customs. Anything less is illegal. Please do not ask us to devalue or mark items as "gift". All international orders are shipped insured via International Priority Mail.
For lost packages: we must wait a minimum of 30 days before filing a claim for a lost package shipped within the US and a minimum of 45 days for an international package.
We cannot be responsible for doll boxes damaged in shipping. Dings, bends, scratches, water damage, etc, are are all things that are out of our control. If it's raining the day your package is delivered or if your box falls out of the delivery truck and the corner of the box gets dented, these are all things that we have no control over. As long as the merchandise inside the box is undamaged, we can do nothing.
Resin Doll Characteristics (not considered damage):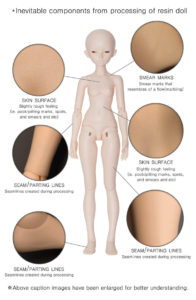 ORDERING: Before ordering a BJD, we encourage you to read our FAQ PAGE.
Thank you for taking the time to read this important information. We appreciate that you are considering placing an order with us! If you have any questions, please contact us!